For Marketplaces
Overview
As the largest provider of cross-border eCommerce services in China, ESG has acquired extensive local knowledge of the Chinese market to harness its potential for global marketplaces.
By providing a quality-assured process of cross-border merchant acquisition, WE+ facilitates an open flow of business between China-based merchants and global marketplaces.
The WE+ network is made up of merchants and marketplaces that have been identified by ESG experts as having a burgeoning presence in global eCommerce. Today, we have over 200,000 WE+ merchants and partner with leading marketplaces around the globe.
Benefits
The 3 key benefits of a China-based merchant acquisition strategy.
Whilst there are laborious challenges associated with a China-based merchant acquisition strategy, if executed correctly the benefits are unequivocal. ESG has unrivalled experience in tapping into these benefits, enabling us to drive the growth of Walmart Canada cross-border eCommerce.

Low Cost
The Chinese model of rapid, low-cost manufacturing provides a lucrative opportunity for Walmart Canada to grow their online platforms through a low-cost, high-profit buying strategy.

Risk-free Inventory
The manufacturing capabilities in China ensure a healthy flow of inventory that can be quickly altered to match the requirements of Walmart Canada and the demand of their customers.

High Assortment Level
Manufacturers in China produce goods across an immense range of styles and categories, offering Walmart Canada high level of assortment.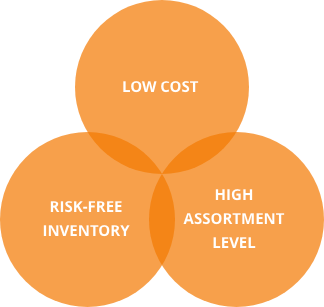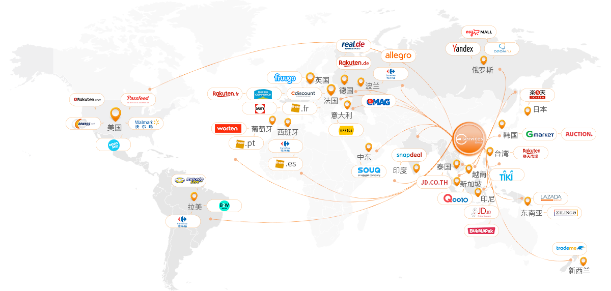 SERVING GLOBAL MARKETPLACES
Driving growth with a lost-cost, high-profit buying strategy
Through WE+, ESG has contributed and continues to contribute to the growth of leading global marketplaces such as Lazada, Newegg, Rakuten, Cdiscount and more. We've helped and continue to help these marketplaces expand their product offerings and increase sales by facilitating a secure method of cross-border merchant acquisition and a low-cost, high-profit buying strategy.
Challenges
A great deal of due diligence is required to overcome the challenges associated with acquiring merchants from China. Through WE+, ESG provides unique solutions to curtail these challenges and support marketplaces through the complexities of China-based merchant acquisition.
services we offer

Strong Merchant Network
Over 200,000 cross border sellers with over 100 million SKUS, focussing in Electronics, Home Appliances, Toys & Games and Fashion categories

Quality Merchant Sourcing
Curated seller selection based on seller performances in existing marketplaces, overseas warehousing capabilities and comprehensive KYC

Merchant Training & Management
New sellers are provided free comprehensive 12 course training program on best practices on the marketplaces, and local account management support to grow their GMV.
Manage PR and marketing activities
With over 30+ media channels across wechat, microblogs, toutiao, QQ live streaming etc and hosting over 100 events a year, ESG help develop marketplace communication channel to China cross border sellers community very effectively.

Strategic Operation Solutions
ESG modular services can address from cross border logistics services to payment and translation services.
Testimonials

Since partnering with ESG and joining the WE+ network, Newegg has gained access to thousands of merchants, an extended seller recruitment arm to Newegg First From Asia global seller program, allowing us to be at the forefront of the latest technology trends. By establishing these relationships, ESG has helped Newegg develop a flexible and robust supply strategy that quickly addresses our customers' product demands.


SOPHIA TSAO
Head of Marketplace, Newegg

ESG has been one of Lazada's trusted partners for over 6 years. Since we've been a part of the WE+ network, we have enabled 10,000+ merchants to expand their horizon to Southeast Asia and sell several million of products. We pride ourselves on offering high-quality products at competitive prices, which is exactly what ESG's WE+ network helps us to do.


SOPHIA TSAO
Head of Marketplace, Newegg

Priceminister's partnership with ESG has been a key part of our cross-border eCommerce strategy. We've been able to leverage ESG's experience in China to connect with suppliers across the country. ESG shares our commitment to keeping the end-customer happy and, through WE+, has provided a continuous source of suppliers whose products are perfectly aligned with Priceminister's customer base.


GUILLAUME DAINCHE
Sales Director, Priceminister